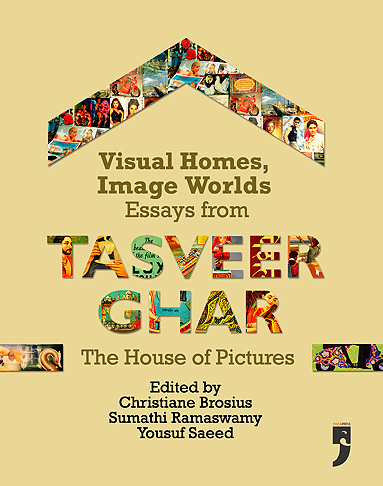 A new edited volume from Tasveer Ghar
Visual Homes, Image Worlds
Download the cover design of the book.
ISBN 978-93-82579-07-6
93-82579-07-9
Pages xiv+355
This book brings together fascinating essays that take the reader through the everyday and exceptional worlds constituted by Indian popular visual culture. The authors represented here, amongst the leading authorities on the subject, take on for due consideration genres ranging from mass-produced print to photography and film in order to explore how the dynamics of affect and belief, patriotism and love, consumption and urbanization, animate the vibrant world of Indian popular pictures.
Founded in 2006 by the editors of this volume as a collaborative transnational enterprise, Tasveer Ghar
('the House of Pictures') is a trans-national virtual site for collecting, digitizing, and documenting various materials produced by South Asia's exciting popular visual sphere. To learn more, please visit http://www.tasveerghar.net. Purchase the book at amazon.in
Contents
List of Illustrations
Acknowledgements
A Guided Tour through our House of Pictures
GREETINGS!
1. Good Morning, Welcome, Svagatam - Patricia Uberoi
2. Eid Mubarak: Cross-cultural image exchange in Muslim South Asia - Yousuf Saeed
ON LOVE, LAND, AND LANDSCAPES
3. Artful Mapping in Bazaar India - Sumathi Ramaswamy
4. Picturing Mountains as Hills: Hill station postcards and the tales they tell - Shashwati Talukdar
5. Monuments, Landscapes and Romance in Indian Popular Imagery - Kajri Jain
6. The Looks and Sites of Love: Valentine's Day greeting cards in urban India - Christiane Brosius
7. Fantasizing the Mughals and Popular Perceptions of the Taj Mahal - Catherine B Asher
OF GODS AND CITIES
8. Temple in a Frame: God posters for and of worship - Richard Davis
9. Miniature Societies and Grihani Aesthetics - Annapurna Garimella
10. Gods on Tiles: Syncretic, portable religious icons as vehicles of streetscape management in Mumbai -
Amit Madheshiya & Shirley Abraham
11. Chennai Beautiful: Shifting urban landscapes and the politics of spectacle - Roos Gerritsen
12. K. Madhavan: 'The Norman Rockwell of South India' - Stephen Inglis
CONSUMING IMAGES
13. The Commodity Image in the Post-Colony - Arvind Rajagopal
14. Consumption and Identity: Imagining 'everyday life' through popular visual culture - Sandria Freitag
15. Chai Why? The triumph of tea in India as captured in advertising imagery - Philip Lutgendorf
16. Modernity at Home: Leisure, autonomy and the new woman in India - Abigail McGowan
AT THE MOVIES
17. Selling Soap and Stardom: The story of Lux - Sabeena Gadihoke
18. Still Magic: An Aladdin's cave of 1950s B movie fantasy - Rosie Thomas
19. Miss Use—The sexy lady on Bhojpuri music album covers - Vishal Rawlley
The Contributors
Write to us at tasveerghar@gmail.com
Published by Yoda Press, New Delhi.