Project Co-ordinators:

Christiane Brosius
Christiane holds the Professorship of Visual and Media Anthropology at the Cluster of Excellence "Asia and Europe in a Global Context" (www.asia-europe.uni-heidelberg.de) at the University of Heidelberg in Germany. With an additional background in Art History and Art Education, she started to be interested in contexts of art production, dissemination and consumption. Christiane researched and published on the German cultural historian Aby Warburg who developed the 'Mnemosyne Image Atlas', which had an impact on Tasveer Ghar's focus on popular culture and image itineraries (1999). For her book Empowering Visions. A Study on Videos and the Politics of Cultural Nationalism in India (London: Anthem Press 2005), Brosius explored the iconography, rhetoric and production context of video propaganda of the Hindu Right (especially late 1980s to 1990s). Her other research interests are "ritual agency," urban anthropology, diaspora studies and transnational social networks. Her latest book is entitled India's Middle Class. New Forms of Urban Leisure, Consumption and Prosperity (Routledge, New Delhi, 2010; currently out of print, second edition will be out by 12/2013; for a recent review in EPW, see here). It carries ethnographic case studies about urban architecture and town-planning, heritage tourism and spiritualism, and lifestyle specialists and magazines. Currently, Christiane is working on urban youth culture, romantic love and media in the context of Valentine's Day. See her recent essay on Tasveerghar: The Rhythm of Romantic Love". She has also started to conduct research on the field of public art in Delhi and Kathmandu. More on the chair of visual and media anthropology and Christiane's CV....


Sumathi Ramaswamy
Sumathi Ramaswamy

Sumathi is Professor of History at Duke University, Durham, North Carolina, USA. Her interest in visual culture began in the 1990s when she wrote about the visualizing of the Tamil language as goddess, queen and mother in her book Passions of the Tongue: Language Devotion in Tamil India (University of California Press, 1997). She also analyzed popular visual representations of Hindi as a demoness in her study of the demonization of the language by Tamil nationalists in an essay entitled "Battling the Demoness in Tamil India." In Crispin Bates, ed. Beyond Representations: Colonial and Post-Colonial Constructions of Indian Identity. Delhi: Oxford University Press (2006), pp. 123-150. Her most recent monograph is titled The Goddess and the Nation: Mapping Mother India (Duke University Press, 2010). She is the editor of Beyond Appearances: Visual Practices and Ideologies in Modern India (Sage, 2003), and Barefoot Across the Nation: Maqbool Fida Husain and the Idea of India (Routledge, 2010).

Yousuf Saeed (Project Director)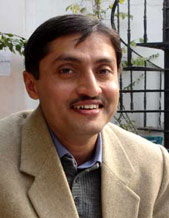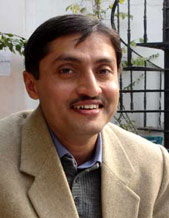 Yousuf Saeed (Project Director)
Yousuf is an independent filmmaker and researcher based in Delhi. He started his career in educational television (with the Times of India) in 1990, co-directing the science series Turning Point for Doordarshan, and moved on to make documentaries on a variety of subjects. Some of his prominent films include Inside Ladakh, Basant, A Life in Science: Yashpal, and the Train to Heaven which have been shown at numerous film festivals, academic venues and on TV channels. Besides films and television, Yousuf also worked for Encyclopedia Britannica (India) as the Arts Editor. He has been a Sarai Fellow (2004), the Asia Fellow (2005-06) and the Margaret Beveridge Senior Research Fellow (at J.B.Media Resource Centre, Jamia Millia, New Delhi, 2009). His most recent work is a feature length film
Khayal Darpan
about the state of classical music in Pakistan. His interest in the popular devotional art of Indian Muslims and his extensive collection of such art work brings him to the Tasveer Ghar. He also looks after the overall design and update of the Tasveer Ghar website. He is a member of the Cluster of Excellence: Asia and Europe in Global Context of the Heidelberg University for a project on Muslim popular iconography.
More details
...